This course will explore the beautiful verses and terminology of the Qur'an that give hope to the believers, empower and inspire them with respect to their faith in Allah; their potential to reach spiritual heights and to overcome the obstacles in their way.

This course will be a window
into the spiritual and psychological power of the Qur'an - a positive influence that was the catalyst for the renewal of civilization and achievement of a new moral and social order.

At the end of the course students will become familiar with, and internalize the verses and concepts that have empowered generations before them.

Format: 12 weekly sessions; Wednesdays from 8:00-8:45
Live, Online  through Zoom; weekly personal reflections and assessment of basic understanding.
Prerequisite: None
Live chat with instructor
CredentialsShaikh Abdool Hamid has a B.A. in Islamic Studies from the Islamic University of Madinah, specializing in Hadith Studies.Bio DetailsBorn in Guyana, South AmericaGraduated from Madina University; specialized in Hadith StudiesCurrently a resident scholar at the Islamic Institute of TorontoServes as an Islamic Counsellor with the Islamic Social Services and Resource Association (Toronto).Regular Khateeb and lecturer at several prominent mosques in and around TorontoTaught the following courses at the IITArabic Language Certificate ProgramScience of the Qur'anScience of Hadith; Hadith methodologyFiqh of Ibaadaat (Salaah, Zakah, Hajj, Fasting)Seerah of the ProphetLives of the Khulafaa ar RashidoonInheritance LawsQur'an Memorization and TajweedShaikh Abdool Hamid is also the spiritual guide for the IIT Hajj group which takes more than 75 Hujjaj every year to Makkah.He also presents a bi-weekly Tafseer session at the IIT on the second and fourth Saturdays of every month.Shaikh Abdool Hamid is married and has six children. He lives in Toronto, Canada.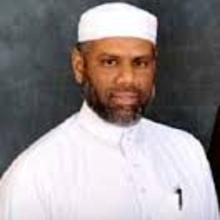 01

Live Class Link (zoom Classroom)

02

Class #1: Empowerment and Inspiration

The Quraan Empowerment and Inspiration Handout #1 - classes 1-2

03

Class #2: Allah's Love and Care for Humanity

04

Class #3: Allah the Exalted does not do Injustice/Oppression

05

Class #4: Hope in the Infinite Mercy and Grace of Allah the Exalted

The Quraan class #4 handout

06

Class #5: Conditions for Repentance to be Accepted

07

Class #6: Allah the Exalted will Forgive the Minor Sins as long as the Major Ones are Avoided

08

Class #7: Allah the Exalted will Forgive the Minor Sins as long as the Major Ones are Avoided Part 2

The Quraan handout #3 Class #7

09

Class #8: Allah the Exalted will Forgive the Minor Sins as long as the Major Ones are Avoided Part 3

10

Class #9: Allah the Exalted will Forgive the Minor Sins as long as the Major Ones are Avoided Part 4

Lesson 9 Quiz: True or False

11

Class #10: Ease will Always Come With/After Hardships

1-The Quraan Empowerment Inspiration Handout full

12

Class #11: Ease will Always Come With/After Hardships Part 2

13

Class #12: No Hardships in Religion

14

2-The Quraan-Empowerment Inspiration